Donate
 Our charity (Registered Charity No 1039350)  receives no government funding and relies solely on the generosity of our supporters.
Please consider making a donation to help us continue our vital work. We've listed a number of ways you can donate to us below.
Gift Aid
Please remember, if you are a UK tax payer we can claim an additional 25% on top of your donation, at no extra cost to you, if you complete and return our Caw Gift Aid 2016.
Credit or Debit Card & PAYPAL
You can send a donation via PAYPAL using your credit or debit card. You do not need a PAYPAL account to use this service – just click on the donate button below. Alternatively, sign in as a guest to paypal and use this email address: cheadleanimalwelfare@hotmail.co.uk  to send your PayPal donation to us.
Cheque
Please make your cheque payable to Cheadle and District Animal Welfare Society and post to:
Cheadle and District Animal Welfare Society Slate House Parwich, Ashbourne Derbyshire, DE6 1QD
Leave a Legacy
Please consider leaving us a legacy in your Will. Legacies provide vital funds for our animals. By leaving us money, you are helping needy animals for years to come.
Support Us While You Shop
Please go via the EASYFUNDRAISING website to do your online shopping
Raise money for Cheadle & District Animal Welfare Society every time you shop online at no cost to you:  http://www.easyfundraising.org.uk/causes/cdaws/
***To everybody who has done their Shopping via Easyfundraising.org.uk a huge thank you from the Waifs and Strays.
or via the GIVE AS YOU LIVE Website to do your online shopping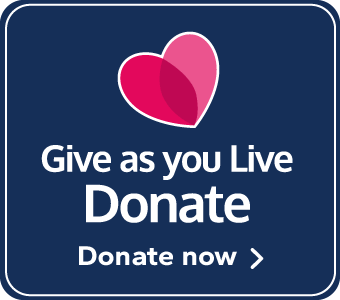 PLEASE USE THE 'GIVE AS YOU LIVE' LINKS BELOW, NOT THE ABOVE BUTTON TO ACCESS 'GIVE AS YOU LIVE' TO SHOP AND ALSO DONATE!
We are also registered on the Give as You Live Website, so if you use that website to access your retailers you can also help us via that too- and like easyfundraising.org.uk this is also at no cost to you.      https://www.giveasyoulive.com/
https://www.giveasyoulive.com/join/cheadle-and-district-animal-welfare-society/1039350/0
Recycle4Charity is a free and easy to use ink recycling programme, that helps its thousands of members raise funds for charity and non-for-profit organisations. Cheadle & District Animal Welfare Society is now registered with them.
So please do not throw away your old ink cartridges! If you obtain a postage free envelope from Recycle4charity and post the old cartridge to them we will receive a donation from them. You can send several in one go too!
Its a simple process. Please visit their website https://www.recycle4charity.co.uk/ to see what you do and select Cheadle & District Animal Welfare Society – C101608 when selecting your chosen charity!
Thank you.
Every donation means a lot to us.
 Amazon Wishlist (www.amazon.co.uk)
We have updated our Amazon wish list for things for the cats and dogs so if you would like to buy something to help us look after them (particularly at Christmas). Please check that list out. There is no easy search facility for lists on Amazon  but you can access it by the link below! At present we only need things for the cats.
https://www.amazon.co.uk/hz/wishlist/ls/90U56JY76BOS?ref=cm_sw_em_r_wl_dp_nLvLfloXikMVU
Don't forget to log into Amazon via 'easyfundraising' site too if you have registered for us and we'll also benefit when you buy by getting a donation from Amazon too thank you. Similarly you can access Amazon using www.giveasyoulive.com and we also get a donation if you have registered us on there.
We can only thank you and confirm receipt of your item if you enter your name and also email address in the 'Gift box' option which is provided at the order stage. Or if you would like to know that things have arrived safely and so we can thank you properly please just drop us a line to say what we should expect to receive, along with your contact details. To: cheadleanimalwelfare@hotmail.co.uk or 01335 390369.
We do greatly appreciate all that you send to us via the wishlist. A very big thank you also to everyone who has sent us wonderful things so far.
Treats and Food
If you want to buy much appreciated treats locally for the cats and also Cat Food you can always leave them in the collection bins we have within Morrisons Supermarket, The Pet Stores, Cross Street, Cheadle & Pets at Home, Uttoxeter. .
Dreamies Cat treats always go down very well with the cats!
We and the cats and dogs really do appreciate everything that you give to them. Thank you so much.
If we receive any dog food or treats and have no dogs in our care at that particular time we pass them onto 'Greyhounds, Golden Oldies and Friends' animal sanctuary who will also greatly appreciate them.
Collection Boxes
Give to any of the Cheadle & District Animal Welfare Society Collection boxes which are situated in a number of stores/pet shops around the district.
Sponsorship to help us with our fundraising events/ publications etc?
If anyone, group or organisation could help us by sponsoring any elements of any of the fundraising activities we carry out in order to reduce their associated costs (such as advertising, printing, teas/coffees, room hire etc) we would be extremely grateful! For example for any of our big events such as 'Winter Wonderland' or our Dance evenings.
Sponsorship for any pages maybe of our annual calendar, greetings cards, Big Raffles, craft events/ dogs shows and so on would also be appreciated. We would of course give full acknowledgement and thanks as appropriate.
Pets at Home
We are registered with Pets at Home VIP Club. Pets at Home are generous supporters of our charity. We often get involved with events at the Uttoxeter Pets at Home store. If you register for the VIP club you can select us as your chosen charity. We will then receive a donation from the scheme each time your VIP card is swiped. Click www.petsathome.com/VIP to link to their site, or get an application form from your nearest store.
If you would like to join, have another number or maybe get one as a present for a friend the cost is just £12 for each number you choose from the ones available and that is for 12 months. £6 goes into the prize fund and £6 goes to help provide Bed, Breakfast and Evening Meals for the Waifs and Strays.
Email us at cheadleanimalwelfare@hotmail.co.uk or tel : 01335 390369. 
A draw is held each month. You win half of the entry money if your number is pulled out of the monthly draw. The amount won each month lately has regularly been over £100.
Contact us for a number  The more people in the 50/50 Club, the more the prize money will be! Contact us and we'll advise you how to join in.
Bedding and Towels
We always appreciate receiving blankets that can be used for bedding for the cats and dogs at any time of the year (not duvets or pillows though sorry). Please do contact us if you have any to spare. If we do not have any dogs in that need them at that time though we can advise which charity may like them. Knitted/crocheted blankets are always most welcome for the cats
Online Selling
If you are able to help with online selling in the absence of us being able to hold our local monthly sales we would welcome hearing from you!
If you would like to donate in a way not listed above, or have any questions, please contact the Cheadle & District Animal Welfare Secretary for advice on 01335 390369.
On behalf of all the animals and charity volunteers, thank you so much for your support.